Top 10 Things to Do in Flower Mound, Texas [Updated for 2021]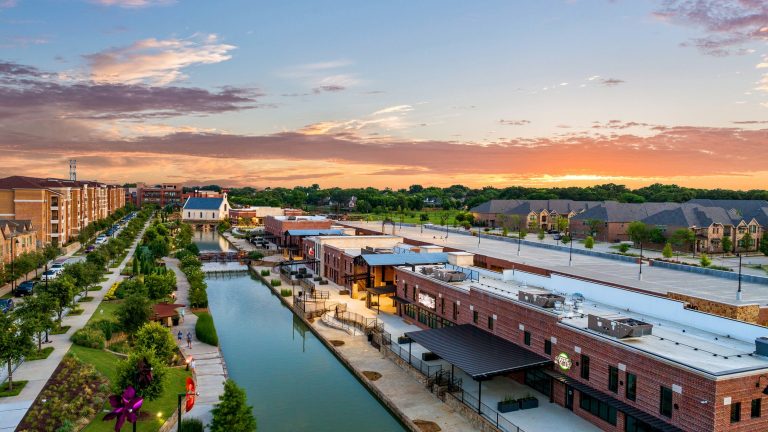 Simple but beautiful, Flower Mound is a great place to live.
With many natural escapes, outdoor activities, and a few hidden gems, there are so many fun things to do in Flower Mound Texas.
Here are just a few:
1. Twin Coves Park
Twin Coves Park is perfect for an hour visit, day visit, or whole weekend staycation! Situated on the north shore of Grapevine Lake with 243-acres, there is so much natural space to explore.
As part of the park's vast amenities, there are two large multi-purpose pavilions, grass volleyball courts, horseshoes, washer game sets, a four-hole disc golf course, hiking and biking nature trails, kayak rentals, lake overlooks, fishing piers, firepits, and seating options everywhere. It's truly a park that has everything!
If you're interested in staying for a night or two, there are 19 furnished cabins and camping spots as well as 22 RV slips in case you have traveling friends who would like the visit!
Visit here to make an online reservation if you plan on staying the night. Otherwise day visits are open to the public every day of the week!
2. The Moviehouse & Eatery
For those looking to catch dinner and a good movie (at the same time) the Moviehouse and Eatery is the spot! Featuring eight dine-in theatres, complete with plush recliners and a dedicated waitstaff, you'll get the ultimate experience.
On each seat there is a button that alerts the waitstaff to visit your seat in case during the movie you need a refill or would like to order some more food. This makes enjoying tasty bites super easy during a movie and the way the theatre is designed, you getting more treats never disturbs other movie-watchers.
The menu contains a range of mouth-watering starters like fried cheese bites, salads, pizzas, tacos and even breakfast options if you're an early bird!
There's also a full-service bar in the lobby that gives everyone the perfect place to gather before the show whether it's just you, your and your partner, or a whole friend/family group. Nightcaps anyone?
Visit their website here to see what's currently showing and book your tickets!
3. Bridlewood Golf Club
One of the finest golf courses in the area and nestled in one of the best neighborhoods in the Dallas Metroplex, Bridlewood Golf Club is a true gem in Flower Mound.
Measuring a total of 7,111 yards front the starting championship tees, the course meets golfers with 25 acres of lakes, the meandering Timber Creek, and trees abound. This course offers players of all levels a well-rounded golfing experience with the variety and balance of the holes.
Designed by PGA Tour veteran, D.A. Weibring, the course features a spectacular combination of links-style and traditional features. Weibring states, "We have designed Bridlewood leaving a lot of decisions in the golfers' hands. All skill levels will find a fair challenge and the opportunity to use a different strategy on each hole."
Golfers from all over come to play this course.
While the club does offer memberships, you can still enjoy the course as a day guest. There's even a discount for seniors!
To book a tee time, view pricing, or learn more about the course, visit their website here.
4. Stone Creek Park
As stated earlier, Flower Mound is full of natural beauties and Stone Creek Park is another one!
As one reviewer says, "For anyone who has not been on the Stone Creek trail system, you are missing out!"
There's a treehouse-themed playground, basketball court, practice soccer field, picnic tables, grills, pavilions, and lots of well-maintained trails that you can walk, jog, and bike on!
There's also a beautiful rocky river that you can dip your toes into, sit, and enjoy the sound of the rushing water. The perfect way to get outside and enjoy the fresh air!
5. The River Walk
A brand new development, The River Walk creates a lavish destination in the heart of downtown Flower Mound. The River Walk features a unique mix of retail, dining, residential and even spots.
Within The River Walk is The Promenade; the main hub of the development. It features
a central tree-lined waterway that connects a unique mix of retail, dining, residential and even spots. The walking trail also ends in a masterfully designed 14-foot water wall.
In The Promenade is what is known as Restaurant Row; five different innovative restaurants that each bring their own flare and taste. There's Primo's MX Kitchen, Sfereco, Scout, Boi Na Braza, and Parliament. Many offer great outdoor seating as well as lush interiors.
There's also 46.5 acres of park and a beautiful outdoor amphitheatre nestled right in the middle of the area. Here you can catch a variety of cool shows ranging from live music to plays.
So Many Things to Do in Flower Mound!
It's easy to see why Flower Mound is one of the fastest growing neighborhoods in the DFW metroplex and why so many people of all ages are moving here.
With so many fun things to do in Flower Mound, not only will you love your home but the community you're a part of!
View All Blogs