Downsizing for Seniors: Why Renting an Apartment in an Active Adult Community Is the Smarter Choice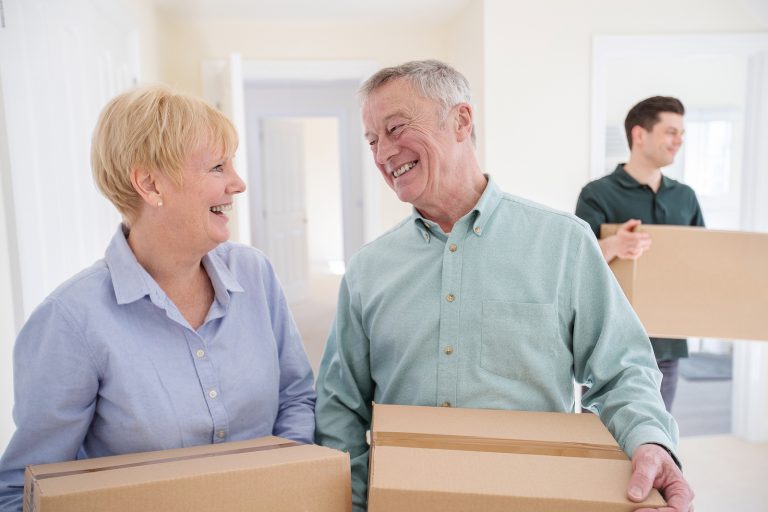 When your kids are all grown up and beginning to start families or build their careers, having a house with three or more bedrooms can begin to feel silly. Not to mention, it's so much to upkeep.
This is the main reason many active seniors choose to downsize. However, you might be wondering, is it smarter to downsize to a smaller home or rent an apartment in an active adult community?
The answer is clear!
If you're a senior who enjoys having days packed with activities, then renting an apartment in an active adult community is the best choice for you!
Here's why…
3 Reasons Why Apartments Are Smarter When Downsizing for Seniors
1. Zero Unnecessary Space
The biggest benefit of downsizing for seniors is eliminating all of the unnecessary space from your life; freeing up your time to focus on activities you love and other priorities such as family. However, even when you move to a smaller house, there is often still going to be spaces or standard features of a home that you won't ever use or need. For example, will you be needing a two-car garage? Will you be regularly going up into an attic? Will you be utilizing both the front and back yard enough to make it worth the necessary maintenance?
With an apartment, all of the unnecessary space is eliminated and you are truly downsizing. As well, the burden of outdoor maintenance is taken off your shoulders; your active adult community will be fully responsible for taking care of all the outdoor spaces and basically everything beyond your front door.
Not only can this free up the strain on your body, but also your mind. You will no longer have to worry about maintaining an entire house.
2. Amenities Perfect for Your Preferences
It's likely that the activities you like to engage in have changed slightly since you purchased your home or maybe you lived in an area that made it hard to participate in the things you love.
When you are downsizing, you can choose an active adult community that offers amenities that fit your passions and preferences for how you like to spend your days. In general, one of the biggest benefits of living in an apartment community is the amenities that are automatically included under your rent! This means there will be no need to pay for a gym membership to exercise or use a swimming pool. For example, RiverWalk Flat Active Adult Community has a library, putting green, swimming pool, fitness center, coffee bar, and more for residents to enjoy every day.
On top of that, many active adult communities are situated near popular attractions such as the beach, golf courses, the local art district, hiking trails, and so on! With a little bit of searching, you will find a community that offers easy access to other activities you love.
When you downsize to an apartment in an active adult community, you'll never run out of things to do because you're in a place that has amenities that match your lifestyle and a location that suits you best!
3. Assistance With Appliances
When you're a part of an active adult community that is overseen by a management team, there is usually a defined process for what to do when your dishwasher overflows, heater stops working, or toilet won't flush. This can be such a relief after years of dealing with household appliance problems yourself. We are all too familiar with the stressful process of searching for a reputable local business to call and negotiating price. When you rent an apartment that's a part of an active adult community, that stress is practically eliminated.
More often than not, your new apartment community will either have an on-site maintenance technician, a team that is on-call, or partnerships with local businesses where you are provided with all of the contact information upon move-in. Depending on the community, you might not even have to pay out of pocket for fixing broken appliances. Many communities incur that cost for you or your rental insurance does, all you have to do is fill out the maintenance order.
4. Financially Better Off
When downsizing from a home, you are in a unique position to make the most of your finances, specifically the money you make from selling your home. If you immediately purchase a new home, you'll only be able to keep a small portion of what you made. Even if you are downsizing to a smaller house, depending on the area, it might be equally expensive as your previous home and housing marketing prices are always going up.
However, if you rent an apartment, you can take the majority of what you made from the selling of your house and invest it and/or save it. This immediately sets you in a better financial position. Not to mention, you'll save money being that you do not have maintenance costs, taxes, or renovation expenses.
Downsizing for Seniors
If you're hoping to downsize to a space that is easy to clean and maintain, gives you fewer headaches and frustrations, and offers you more opportunities to do the things you love, then renting an apartment in an active adult community is the smartest option for you!
It's possible that ten years ago you couldn't imagine yourself ever renting again, but as active adult communities grow in popularity, it's an easy next step when downsizing for seniors.
Looking for an active adult community in Texas that prioritizes your comfortability and happiness? Check out RiverWalk Flats!
View All Blogs