Resort-Style Amenities at RiverWalk Flats That Will Make Your Life More Enjoyable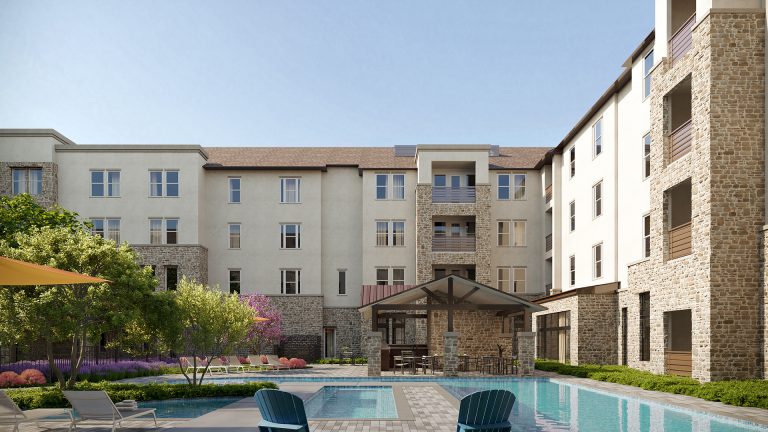 There's no question that there are countless active adult communities in North Texas, but what makes RiverWalk Flats special is the vast array of resort-style amenities that we offer our residents.
We know that along with spending time with family and friends, having the ability to fill your days with activities you love is a top priority when choosing a community to live in. Having a beautiful apartment home is only one of the ingredients for a fulfilling life in a new community. That is why we specifically designed RiverWalk Flats with amenities that will exceed your expectations.
To give you a peek, here are the top RiverWalk Flats amenities that will make you feel like you're on vacation every day:
Luxuriously Landscaped Pool, Hot Tub, and Sundeck
Every community has a pool these days, but few have a beautifully landscaped sparkling, saltwater pool with an attached hot tub and expansive sun deck.
The Texas sun can be brutal and make you want to stay inside, especially during the warmer months, but this community amenity will have you looking forward to catching some rays and taking a refreshing dip.
Plus, our pool has a super unique design that breaks away from the traditional square or circle shape. Separated by a small island of greenery, the pool is broken up into multiple sections for different types of activities. First, there's a long two-lane section that is perfect for swimming laps, then a shallower area made for lounging and floating, and lastly a shaded pool that will give you some respite from the sun without having to get out of the pool.
Surrounding the pool there's a beautiful sundeck with comfortable lounge chairs where you can hang out with friends, get a tan, read a good book, or sip on a cool drink. There's also a covered cabana and eating area with tables and chairs for when food is calling your name.
This space truly has everything you need for a relaxing pool day.
To get a better idea, make sure to visit the image gallery of our community amenities.
Plush Movie Theatre
There's something about watching a good movie in a theatre that's much more exciting than at home on the couch, but sometimes the ticket price and travel distance isn't worth it and with recent COVID-19 concerts, not always possible or safe. That's why our in-house movie theatre is such an incredible amenity for our residents.
With big, comfy movie theatre-style recliner chairs, popcorn machines, and a big screen, you will look forward to evenings spent here.
With the ability to reserve the theatre for an event or just fun get-togethers with family and friends, this amenity is multi-functional and allows residents a fun space to do some hosting. We also have planned movie nights on our monthly calendars for all the residents to attend. Our theatre is a luxurious space you will love!
Delicious Complimentary Breakfast Every Morning
In an effort to make life as relaxing as possible for our residents and truly create a resort-like atmosphere at our community, RiverWalk Flats offer breakfast in the community center every morning.
With an array of delicious yet nutritious foods, you can begin your day the best way by fueling your mind and body. You also don't have to worry about preparing breakfast each morning and instead just jump straight into the day. A community-wide breakfast also offers an easy opportunity for residents to get to know each other and deepen new friendships.
Plus, if you decide to sleep in and miss breakfast, we have a full-service coffee bar that can help you wake up!
Cozy Library
Having a quiet place where our residents can relax with a good book and discover new favorite stories was a priority for us, which is why we have a perfectly-sized library in our community.
This is open to all residents at all times, so you can get some reading time whenever best fits with your schedule.
This also gives residents the ability to form book clubs and participate in interesting discussions about characters, themes, and the other amazing things that happen in the best books.
We believe cultivating your mind should never stop.
24-Hour Fitness Center
The ability to exercise in a pristine fitness center whenever you'd like is another top-notch amenity at RiverWalk Flats.
With a range of cardio machines such as treadmills and elliptical, free weights, and selected weight machines for targeting particular muscle groups, there's something for everyone in this gym! We know that not all of our residents are able to participate in high-intensity workouts which is why we built a gym that caters to all fitness levels.
Additionally, while North Texas is known for its year-round mild weather, there are some days where it's just not possible or safe to exercise outside. That's when having an indoor fitness center is a huge benefit.
Individual Gardening Centers
The last resort-style amenity at RiverWalk Flats that definitely deserves a spotlight is the individual gardening centers we offer for our residents.
Whether you're a total green thumb or just beginning to explore flora and fauna, your personal gardening center is all up to you!
This is a great opportunity to get in the dirt and really use your hands to create something. It's an activity that everyone really loves in our community!
The Best Active Adult Community in Flower Mound
We don't mean to brag, but RiverWalk Flats really is the best active adult community in Flower Mound.
With even more resort-style amenities than listed year, the ways you can fill your days is endless!
Your comfort and convenience is our top priority at RiverWalk flats and we will continue to come up with more ways that this community can be perfect for you!
View All Blogs