Easy-to-Use Apps for Seniors that Make Everyday Life Easier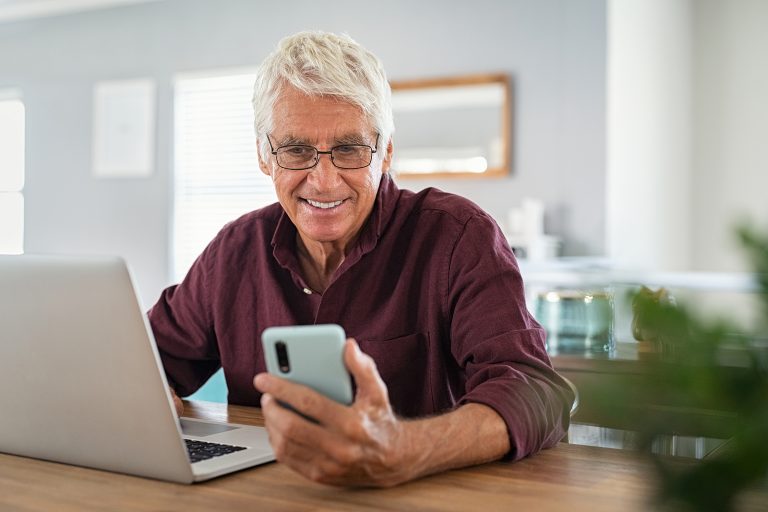 If you thought technology was only for the younger set, think again. Senior citizens are making their mark in the world of technology. As of 2016, research showed that 42% of all senior citizens owned a smart phone.
With that smart phone comes the opportunity for many apps. Those who create apps know that senior citizens are an entirely different demographic that may be interested in apps that other groups are not.
There are many that are free as well as those that charge a minimal one-time fee to download. Here are several apps that are geared towards different topics that may interest seniors as well as apps that are helpful.
Informational Apps
AARP
Cost: Free
Platform: iPhone & Android
This app is associated with AARP (American Association of Retired Persons). It provides a calendar of local events in your area as well as discounts that are available with your AARP membership.
Senior Savings
Cost: $0.99
Platform: iPhone
Tracking down discounts and sales isn't always easy. It can be time consuming and no matter how hard you try you can miss some great deals. This app will tell you which stores, hotels, and restaurants offer discounts for seniors.
Epicurious
Cost: Free
Platform: iPhone
If you enjoy cooking but are tired of the same old recipes, this app offers thousands of recipes for you to try. You'll never get bored in the kitchen with this app by your side. No need to invest in a cookbook because this app is free!
Helpful Apps
Find My Phone
Cost: Free
Platform: iPhone
We all lose our phone from time to time. This app will help locate it for you.
Be My Eyes
Cost: Free
Platforms: iPhone
Sometimes seeing things without much light can be difficult. This app not only illuminates magazines, newspapers, and restaurant menus, but also magnifies them. It's a win-win all around!
Medical Apps
Good RX
Cost: Free
It's no secret that the cost of prescription drugs has skyrocketed. This app will compare the prices of prescription drugs at more than 60,000 pharmacies to help you find the lowest price. The best part of this app is that it's free too!
Red Panic Button
Cost: Free for iOS
This app serves as a medical alert on your phone. Instead of wearing one of those necklaces that you press to get medical attention, you press a button on your phone. When you do this, it sends out a message to a list of people that are pre-designated to let them know you need help. It will also send out your current location.
Pillboxie
Cost: Free
Platform: iPhone
Sometimes remembering to take medications can be tricky, especially if you take different medications on different days. The Pillboxie app allows you to make a customized pillbox and set reminders to help you take your pills at their scheduled times.
Blood Pressure Monitor
Cost: Free
Platform: iPhone
Keeping track of your blood pressure is vital for many seniors. The Blood Pressure Monitor app allows you to track your blood pressure, weight and other vital statistics. You can also easily share them with your doctor.
Entertainment Apps
iBooks and Kindle
Cost: Free
Platform: iPhone & Android
By downloading this app on your smartphone, you can have access to thousands of books. The app is free but you still need to download the actual book. The app just allows you to read it on your phone. If you're not sure you want to commit to the entire book, you can choose to download just a few pages. If you like the sample pages, then you can decide to download the whole thing.
WordBrain
Cost: Free
Studies have shown that word puzzles can help delay the onset of dementia and Alzheimer's disease. Apps like WordBrain keep a senior's mind active by solving word puzzles. On this app, the puzzles start off easy and get harder as you go along.
Lumosity
Cost: Free
On the same thought as WordBrain, the Lumosity app also offers hundreds of games and puzzles to keep the mind sharp.
Librivox Audio Books
Cost: Free
Platform: iPhone
For some seniors with vision problems reading an actual book can become difficult. But that doesn't mean they need to miss out on some great stories. Librivox has thousands of books available to listen to. Audiobooks are a great alternative for those seniors who want to keep up with their "reading" but may not be able to do so the old-fashioned way.
Words with Friends
Cost: Free
Here's another game app that allows seniors to keep their minds active. This is similar to Scrabble and also allows players to challenge one another no matter where they live. It's a fun way to stay connected with loved ones while sharpening those mental skills.
Old Time Radio 24
Cost: Free
Platform: iPhone
For seniors who want to listen to music from the 1920s to 1950s, this is the app for them. It broadcasts retro music and popular TV shows from that time period. Run by volunteers, this app can be something fun that the whole family can enjoy.
NPR One
Cost: Free
Here's another app that can provide information right on your smartphone. NPR (National Public Radio). National and international news as well as some entertainment shows are accessible on this app. You can even set up the app to let you know when your favorite programs are on so you don't miss them. You can also search for different topics that interest you.
Apps to Stay Connected
Skype
Cost: Free
Skype is a great app that allows seniors to video chat with loved ones. This one comes in handy if grandchildren don't live nearby by allowing seniors to still see them. Sometimes simply talking on the phone isn't enough. With Skype everyone can see each other which is a bonus.
Tapestry
Cost: Free
Think of this as Facebook for seniors who don't want to join Facebook. Tapestry is another social media app that allows seniors to share messages, photos and videos with their families in a spam-free, ad-free online environment.
As you can tell, there are countless apps that can not only help seniors with daily tasks, but also entertain and help them stay in touch with loved ones. They also provide another reason to get a smart phone if you're not in the 42% who already have one!
View All Blogs